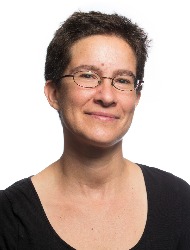 Contact Information
Voice: 657-278-7035
Fax: 657-278-2101
Dept: 657-278-3474
Personal Website

@AitanaGuia
Aitana Guia, Ph.D.
Associate Professor of History
Biography
Aitana Guia studies nationalism, migrants, minorities, and social movements in post-war Europe. She has published The Muslim Struggle for Civil Rights in Spain: Promoting Democracy through Migrant Engagement, 1985-2010 (Sussex Academic Press, 2014) and La llengua negociada: El manteniment del conflicte politic sobre la llengua (Tres i Quatre, 2001).
Before coming to Fullerton, Dr. Guia researched nativism as a Max Weber Postdoctoral Fellow at the Robert Schuman Centre for Advanced Studies, European University Institute in Florence, Italy. She has also worked as Assistant Protection Officer for the United Nations High Commissioner for Refugees in Caracas, Venezuela, and as interpreter and translator for immigrants and refugees in Canada. Dr. Guia enjoys running half marathons, hiking, and obscure independent movies.
Degrees
2012, Ph.D., Modern History, York University (Toronto, Canada)
2002, M.Sc., Ethnicity and Nationalism, London School of Economics (London, UK)
Research Areas
Nationalism, migration, and minorities in post-war Europe; nativism and anti-immigrant prejudice; Islam in Europe; environmental urban social movements; cultural diversity management.
Courses Regularly Taught
HIST 320 Modern Europe
HIST 435C The Spanish Civil War
HIST 429B Europe since 1945
HIST 435B Fascism (1918-1945)
HIST 110A World History
Grants & Special Projects
Current Research Projects:
Dr. Guia currently has two active research projects. For Nativism with a Progressive Mask: Cultural Wars in Postwar Europe, Dr. Guia traces nativist narratives that use progressive arguments to oppose the inclusion and religious rights of Muslim Europeans. Nativist narratives take on diverging characteristics in each country, for instance, the defense of animal rights in the UK, environmental sustainability in Switzerland, sexual freedoms, gender equality, and LGBTQ+ rights in the Netherlands, social-democratic welfare provisions in Denmark, and secularism and Republicanism in France. These paradoxically progressive nativist narratives are heirs of the New Left and new social movements that emerged after the May 68 protests.
Healthy Cities, Thriving Humans: Car Culture, Environmental Social Movements, and the Greening of the Turia River in Valencia, Spain (1957-2019) tells the story of how unlikely activists managed to stop a proposal to turn the Turia riverbed into a freeway in the late Francoist dictatorship and lobbied successfully to turn it into a popular garden, one of the best urban gardens in Europe today.